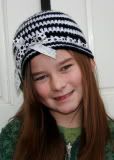 Tomorrow at 6am we have to be at the hospital. Hannah's surgery is at 7:30. I thought the doc said that it would take 2.5 hours but my hubby says he said 3-4. So by lunch Hannah will be done. If you need a background go to
Hannah's Surgery
.
Last night the wheel chair got delivered...it was a sobering sight. It made it all real...4-5 weeks...could be worse I guess...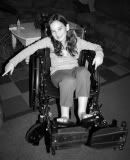 We had family over to hang out for a little while. I didn't cry all night until I saw Maddy hugging Hannah before she left to spend the night at her auntie's...and she held her so tight...I think she may have been a little forgotten in this whole process....
I took a picture of Hannah's ankles tonight..just to remember..this is with her standing straight...if she's not paying attention, her feet turn inward alot and collapse even more. When she's walking, those ankle bones almost touch the ground...this will soon be fixed...as will the legs (can't believe that they are breaking my little girl's legs....)and feet.
So, tomorrow...say a prayer for my daughter Hannah...It will be a couple of days until I can post again...we'll see how it goes..wish I had a laptop. I'm sure she will be fine and all will go well..but I'm still scared...I'll keep in touch, soon!