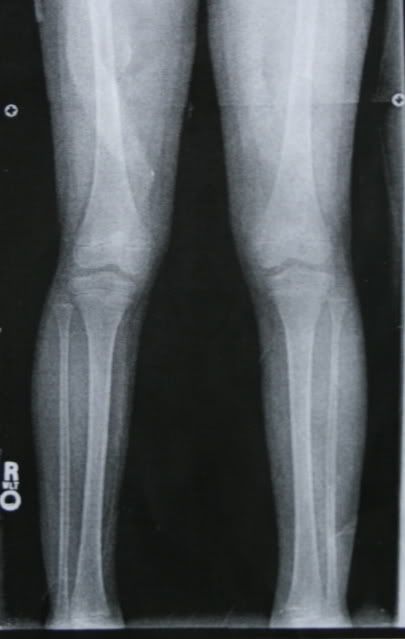 Well, my sweet little Hannah has to have surgery on her legs.... We were referred to see an orthopedist surgeon at Children's Hospital, oddly enough it is the same doctor that treated my brother many years ago.
Hannah was having some in-toeing, not bad...but I had noticed that her ankles leaned inward. She would complain after running sometimes and she seemed to have to work harder to keep up. So, I took her into her regular doctor. He said that she looked fine, so I asked him to take a second to see her walk. He agreed that all didn't look right. So he referred us to Childrens Orthopedics.
We waited about 2 months for an appointment. The drive to the hospital, I was thinking the whole time...."I'm being paranoid, she's fine...she probably just needs good supportive shoes....".
As soon as they saw her and examined her I could tell that wasn't the case...they sent us straight to X-Ray. The X-rays came back and the doctor pointed out the problems.
She has Metatarsus Adductus(twisting of the feet), Internal Tibial Torsion (twist in the calf bone), Femoral Anteversion (twisting of the thigh and hip), sway back (caused from the legs) and flat feet. All these (except the flat feet) are from her position in the womb. Weird, huh? Her ankles have collapsed due to the flat feet. Poor girl. No military for her, huh?
They sent us for a CT scan also and more X-Rays.
So here is what they will be doing. They will be breaking her calf bones on both legs to re-set them. She will have pins in. They will be taking a pie shaped piece of bone out of the outside of both feet and cutting and tightening the tendon on the inside of her feet.
She will be in a wheel chair (and casts) for a month and cannot put ANY pressure on her legs at all...so baths should be fun as should going to the restroom.
Then she will be in walking casts for a month and then 2 months of recovery.
Crazy. I left that appointment in shock. Really, I had NO idea.
So, her surgery is scheduled Dec. 18th. Derek will be home and will start his Christmas leave that day. I cannot do it without him. She will be in the hospital for a couple of days and then home if all goes well.
So strange to think that I'll be taking my daughter in to get both of her legs broken.
I don't know how it will work with school, but part of the wheel chair time, she'll be on break. Not a fun Christmas for her.
She is my calm child, she likes to draw, sing and play her Wii. So at least we have that. I have wanted her to start in singing lessons forever, so maybe we can find someone to come to our house for a while and do lessons during the school day.
I guess just another speedbump on the Watson journey.