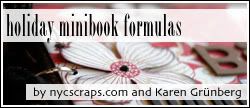 I have friend that I met a little over a year ago...she is one of those people that is VERY down to earth...she is wise and smart...and oh so talented. She is a deep person, a spiritual person and a talented writer and
scrapbooker
.
You might know her by her screen name
Karenika
or you might know her by the wonderful site that she started called
Creative Therapy
(which
btw
, Melody Ross is her guest artist this week)...but her name is
Karen

Grunberg
and she is teaching a mini book class for
NYC Scraps
and it is sure to be a great experience.
Karen is doing a class giveaway on her
blog
and I am passing on the word!
I encourage you to check out her
Creative Therapy
site, her personal
blog
and her class called
Holiday Mini Book Formulas
at NYC Scraps! I think you will be inspired creatively and spiritually by her.
She encourages you to go past just the "pretty pretty" art and get deep inside yourself to create something that comes from your spirit. I like that
a lot
...in fact so much that I joined her Creative Therapy team....and am working on my first
catalyst
this week. I'll keep you posted on that later!