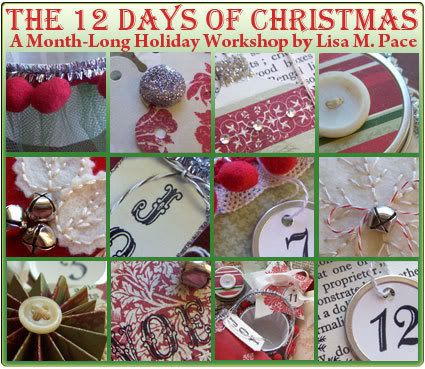 Weeelllll, my pretties.....
Lisa Pace
, who is completely been a mentor to me...and she is the one who has single handedly gotten me addicted to the
crafter crack
, otherwise known as glitter.
OK, well here's the deal...and I wanted to share it with you cause it's a DEAL (ha, good play on words there, huh?)....Lisa is offering a workshop, not just any workshop...but a month long workshop... of Holiday Creating!
The 12 Days of Christmas
is a month long online workshop of holiday creating. Each Monday, Wednesday and Friday for the month of November, Lisa will post new projects that will include a supply list, tools needed and step by step instructions to complete each project. There will be a total of at least 15 tutorials (this is super exciting to me...cause I look at her stuff in wonder and think, "How did she do that"). Some projects will come with a template to make the creative process a bit easier and each featured project has close up color photos. All the projects are designed so you can use items you already have
on hand
or create them exactly like the sample.
The cost for this online workshop is $19.95 (15 tutorials, downloadable images and recipes...wow..!!) and will be available from November 1st – December 15th. Once payment is received you will be sent a password to enter this private forum starting at 7:00 a.m. November 1st. Then it's time to get out the glitter, trims, papers and embellishments for a fun filled month of creating.
Since this will be a place that is all about the holidays Lisa will include downloadable images from her stash (Oh and let me tell you, she has got SOME stash) of favorite vintage holiday sheet music and postcards. She will share some of her favorite family recipes (She is southern, nuff said!), holiday quotes and photos of some of her favorite holiday decorations over the years. We also get to share cookie recipes, holiday traditions and decorations as not only does she love to share...but she loves to see how others celebrate and decorate during the holiday season.
It will be like a little get together....and I'm super excited about it!!
Guess what? She is letting me (well, I begged) post a picture of this cute guy...His name is
Monsieur Hiver a.k.a. Mr. Winter
and you will learn how to make him in the workshop...is he not the cutest?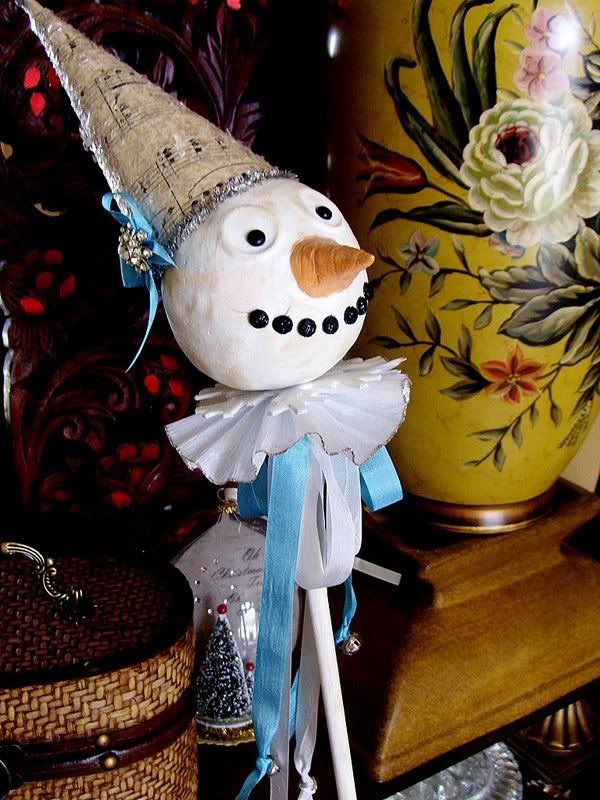 So go to Lisa's blog
It's In The Details
and find out more information and hope to see you there!!