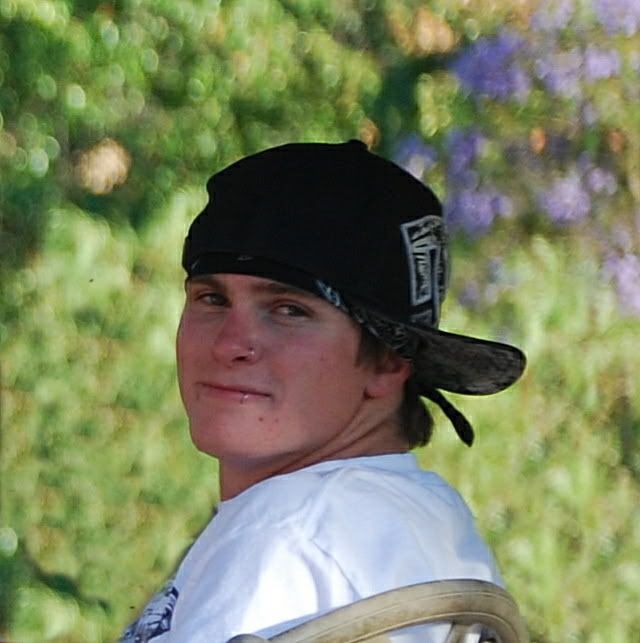 I still can't believe that Ian is gone. Everytime I think about it...I get that sick feeling deep in my gut. That feeling of when you think of your child being hurt or killed...that feeling that you wake up in the middle of the night after having a nightmare about your child being harmed...that sick feeling that you force to go away.... You know that one that I am talking about...
Well, I get that. Not anywhere near where my in-laws get it....but I have it to. I didn't really feel maternal towards Ian..but I did feel like a big sister. I miss him.
Ian was a gentle soul. Really, he was. Sensitive, loving and kind. If you pulled up in driveway, he was the first one out there helping you unload your stuff...makes me teary just thinking about it.
He loved his nieces and they loved him back.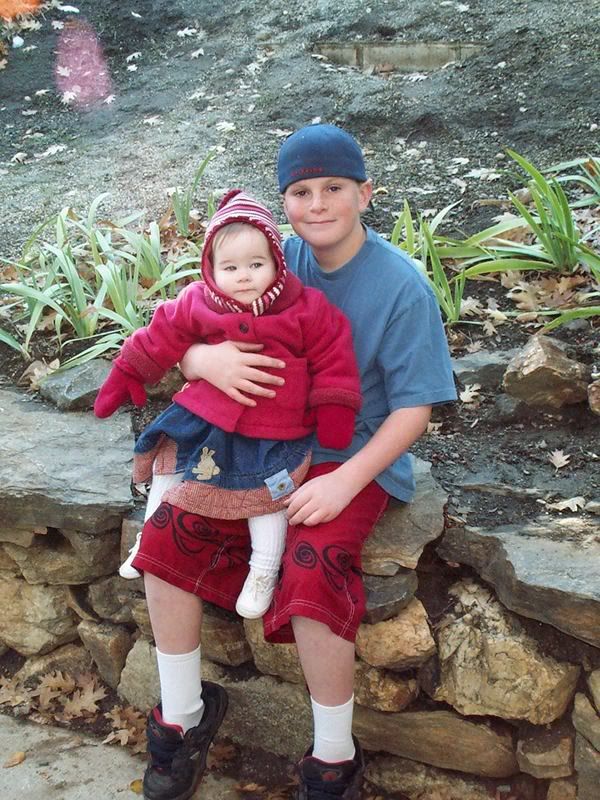 I just can't believe that he is gone...it's so final. I miss him so much. Deb and Scott are missing him horribly. How do you get through this? Time, I guess.
When we went up there for the Memorial and funeral...I couldn't sleep in his bed. I couldn't...I slept on the couch and an air mattress. Derek couldn't do it either. While we are old and don't do so well not sleeping in a bed anymore...we couldn't bring ourselves to sleep in his room. Then a couple of days before we left...I didn't see Derek anywhere. I went upstairs to check on him..and he was wrapped in a tight ball in Ian's blankets on his bed asleep. I wanted to touch him...or wake him up and snuggle with him...but I felt like he needed this time to be as close to Ian as he could, without me there. So I left him. He slept all night in Ian's bed and then he slept there the next night too.
Last time I went up there (they live just over an hour from us) I did sleep in Ian's bed. It was much more comfy than the couch. It felt weird...his room is SO him....all his stuff, movies, video games, clothes hanging in the closet...little special things from his brothers hanging on the wall...the big Polish flag hanging over his bed....I felt him but not his presence. Does that make sense? I was OK.
My heart is heavy this morning. It really is. I wish I could be right by Debbie and give her a big hug. She's very sad this morning. Love that woman, she's one of my best friends. She's wise and kind. I always know that I can go to her for advice. She thinks about what she says and always gives you such honest good advice. I love my Mother-in-law, alot. I'm a lucky girl.
Hannah was listening to Carrie Underwood the other day (her absolute most favorite singer ever...) and she was singing her favorite song. It's called Jesus take the Wheel (It will play for you-2nd song on my playlist)...any way it's about a girl that is driving and loses control of her car and slides off the road....and my little sweet Hannah just started crying her eyes out. It made her think of Ian and the crash...and losing him. She was so sad. I hugged her for a long time. She loved Ian alot. He has always been there. Always. I hope her little heart heals eventually.
Anyway...just needed to write today. I'm not sure if it made me feel better. Anyway, Ian I miss you. I miss you alot. Our family is crushed but if it makes you feel any better we have pulled together as a strong unified unit. We are dealing with your loss together. I love you. Please tell my brother hi for me!
Love, Katie