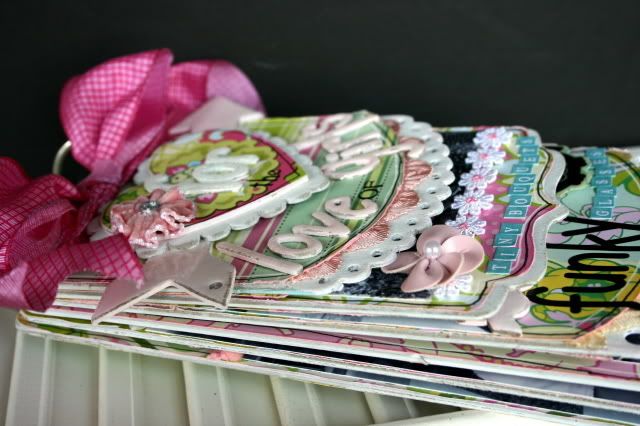 This is another project that I did for the Maya Road booth. I was assigned the new Layered Mini Album. I was hoarding this Heather Bailey Paper and waiting to find the perfect project...this one was it!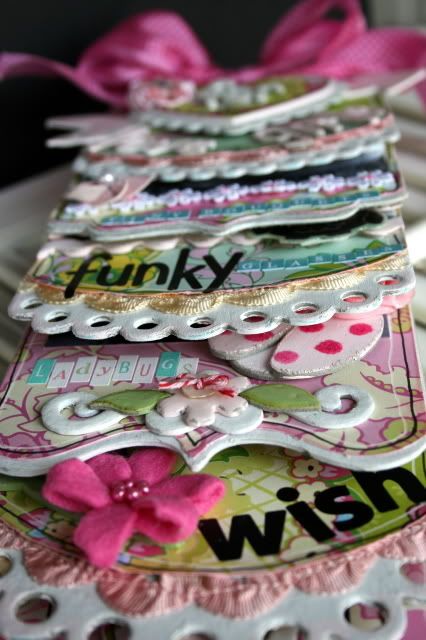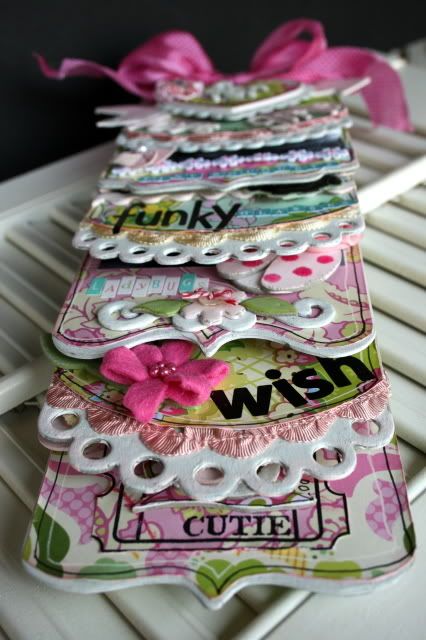 I used the new "mini" Noah alphabet and the Valentines "Love" release chipboard keychain set for this cover.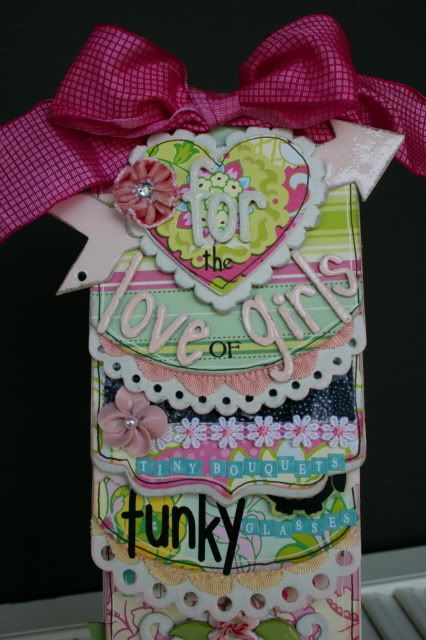 I also used the new little blossom on this page, they are kind of like leather...they are fun to use.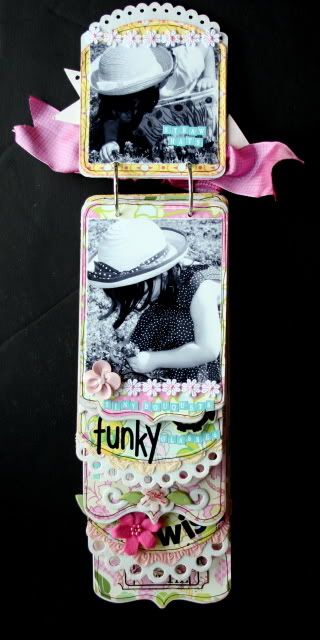 This is one of the new owl sheer pieces....couldn't be more perfect for the glasses that my girls have on......Man, I miss the Gymboree days....I also used one of the Maya Road borders on this.
Did you notice the little white butterfly rubons that I used inside her bug catching jar? She was really catching mostly little rolly polly's but I added a few butterflies for her!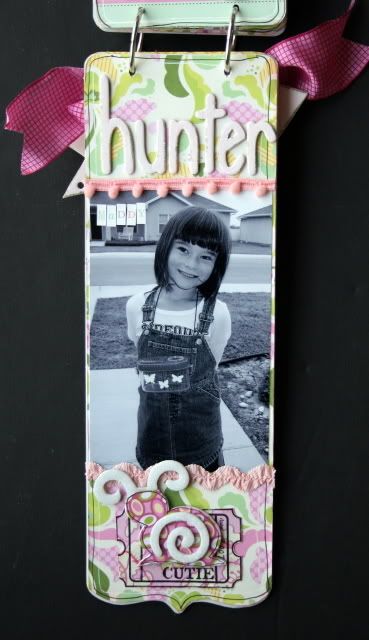 On a more personal note...Hannah is walking!! Very unsteady but she is up and around...she just follows stuff that she can hold on to...like a baby..when they cruise the edge of the couch. She hasn't walked without something to steady herself on yet...but she's getting there! So NICE to not carry her to the bathroom anymore...!!
We went to Julian this weekend....to see my in-laws...we also looked at a bunch of houses in Ramona....they are totally affordable...and maybe, just maybe we can buy a house....the money we pay for rent is such a waste....would love to own a home and paint the walls ANY color I want!
I had a moment....in Ian's room...actually quite a few moments...his room is untouched...it's been 6 months and it's pretty much like he left it...dirty clothes in the closet etc...and I walked in there and on his nightstand was his hat...like it was just waiting for him...it made me cry. I went through his closet and just touched some of his stuff....found a rock in one of his shoes...took it out but put it back where it was. It's still so unreal....just so strange...and sad, deeply gut wrenching. Makes me sick to my stomach that he's never gonna put that hat on again. I still can't believe it. My in-laws look tired....and older...and they have lost their spark..and if you know them then you know the spark that I'm talking about....it's amazing...and it's lost. I love them dearly and wish there was something that I could do...but there's not. We are going to try and get them going to a support group called Compassionate Friends...we went to that after my brother died. It helped us all a lot. I think they need to be around people that have walked in their footsteps...to see that life is still important and it does go on. It's a hard grief to share and I think being around people that completely understand will help.
We drove past the accident site and as usual I had that feeling in my stomach like you do at the top of a roller coaster right before you go down...not that excited feeling but that feeling like your gut is in your chest and you can't catch your breath...the glass is still all on the side of the road and the sun was shining on it so it was sparkling...to go and remove the glass would be very unsafe...as that road is bad and there is constant traffic coming around the corner.
Driving the route that he last drove was also strange....I just kept putting myself in his car...and thinking that he was just driving with Tessa, music on, windows down...and just driving without a care in the world...not knowing that this would be his last action, his last moments, his last laughs etc....it was horrible...but I couldn't escape it...I just couldn't. He was happy and in love and spent the last few minutes with his girlfriend... gosh, how much one minute can make..just one stinking minute...that's all he needed. The drunk driver might have missed him....just one minute... Miss you Ian.
~K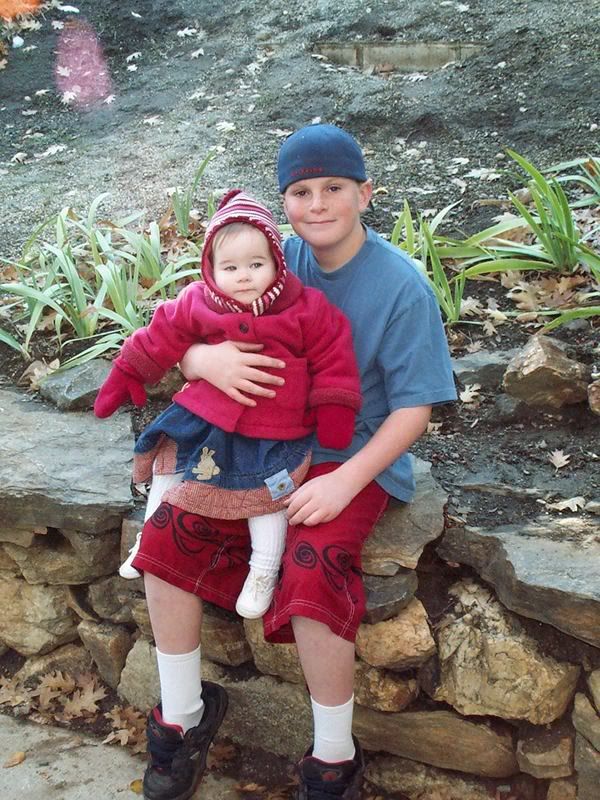 This is a picture of him holding Hannah....he was about 12 or so in this picture and she was a chubby little bundle.