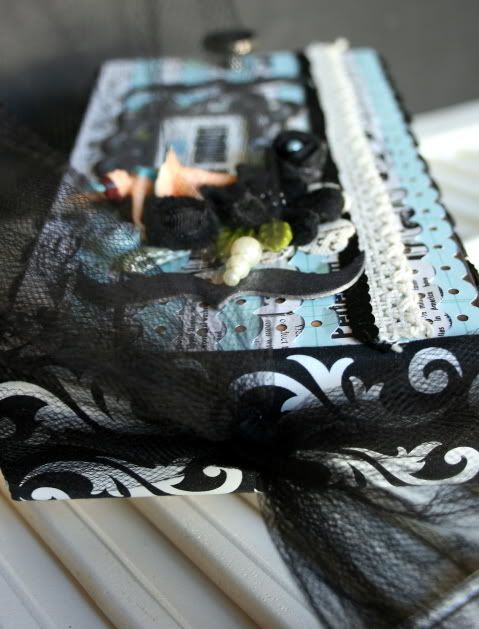 This is one of my favorite projects that I made for CHA...I used the new Maya Road landscape binder envelope book. It comes with 4 envelopes inside for filling with notes, letters, ticket stubs....or whatever your little heart desires!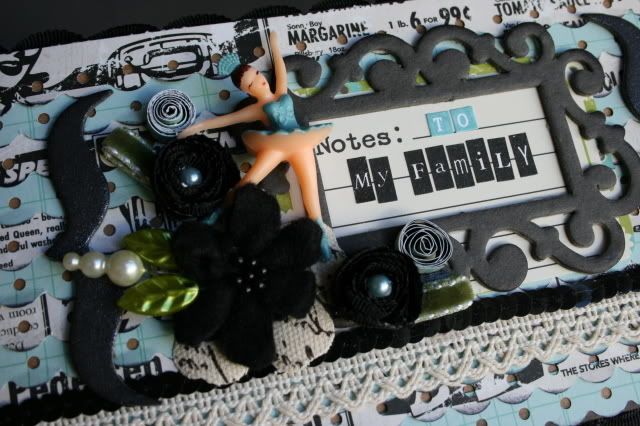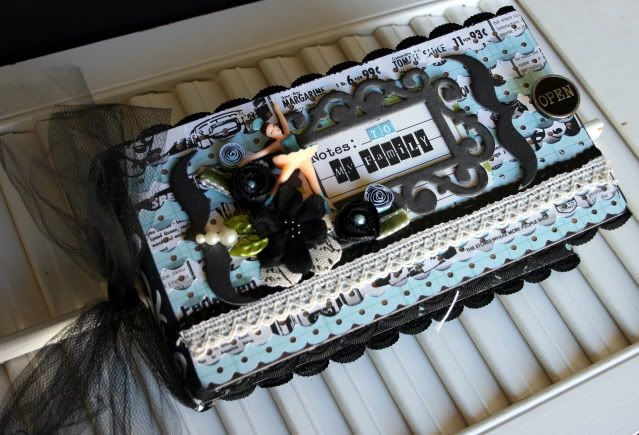 I used October Afternoon paper and tags from their Hometown line. I love that line...aqua and black are so stunning together.... I used the famous treading water punch by fiskars and made scallop layers (just like I did on the houses from Christmas)....then I knew that I HAD to use this little ballerina cupcake topper...it's vintage and from Paper Tales, of course...I used my Tonic scissors by Tim Holtz (they cut through anything) and cut off the back of her tutu that was sticking out....just made it a little flatter. Then I used the black scallop ric rac by Maya Road and made little cabbage roses...topped with aqua pearls, also from Paper Tales. I coiled up little scraps of the aqua paper and made little quilled roses. I also used the NEW Maya Road leaf and pearl pins...oh man, they are so pretty.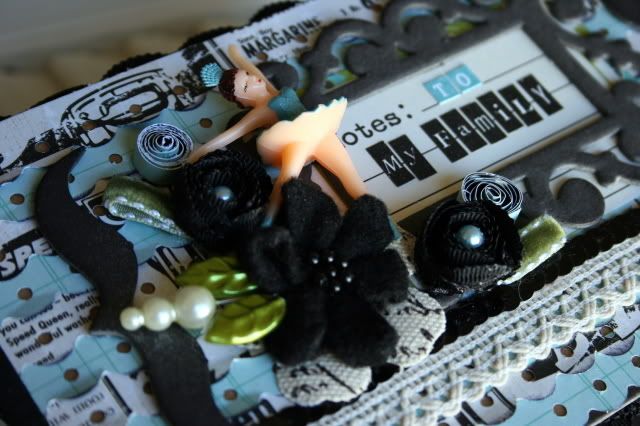 The scroll frame is also a NEW product by Maya Road, I used Maya Mist and sprayed it black...also sprayed the Maya Road brackets black and then topped with silver mist for a shimmer. Black Maya Road felt flower,Maya Road black sequin trim, new Maya Road vintage trim and a 7Gypsies handle (I can't get enough of those!).... Bound the edge with 7Gypsies gaffer tape and then made a black tulle bow (also from Paper Tales, tulle in every color!)....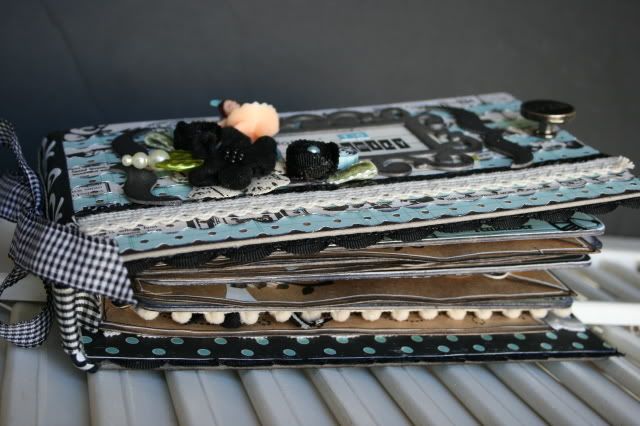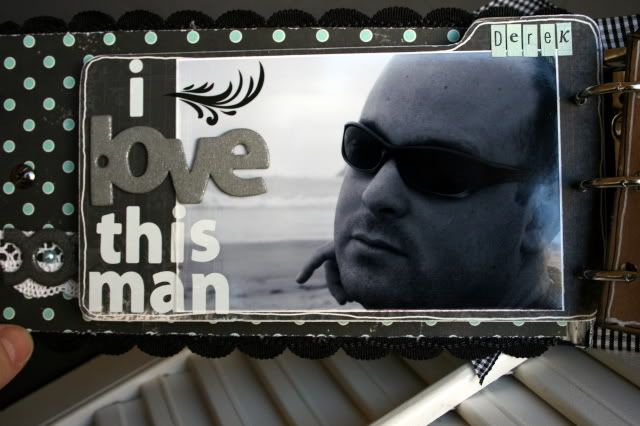 I stamped the word "together" with the background stamp that comes on the "art rules" stamp set by Studio 490...and I'm addicted..such a cute and easy way to add pattern to chipboard.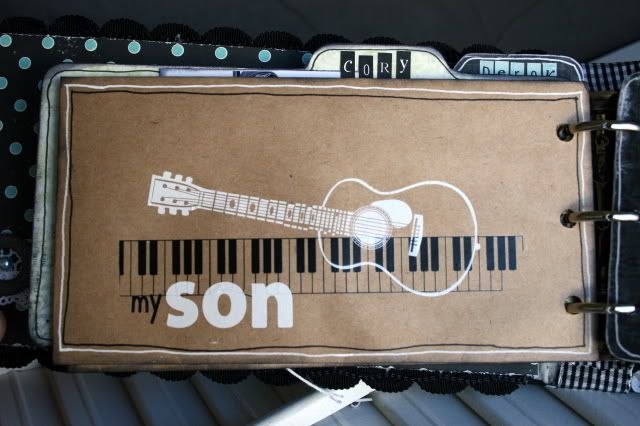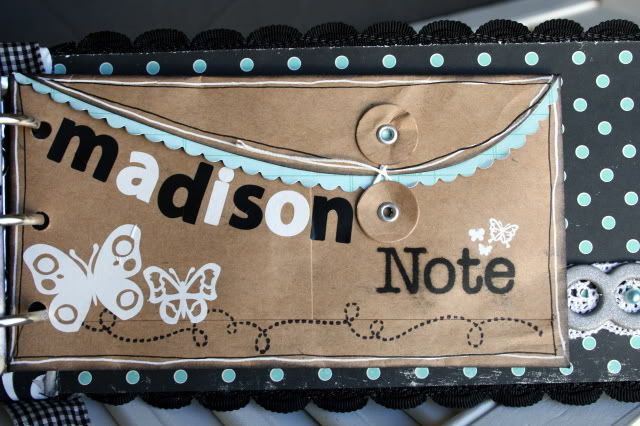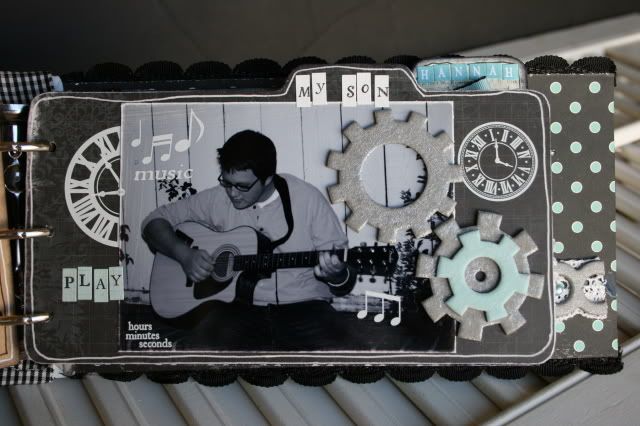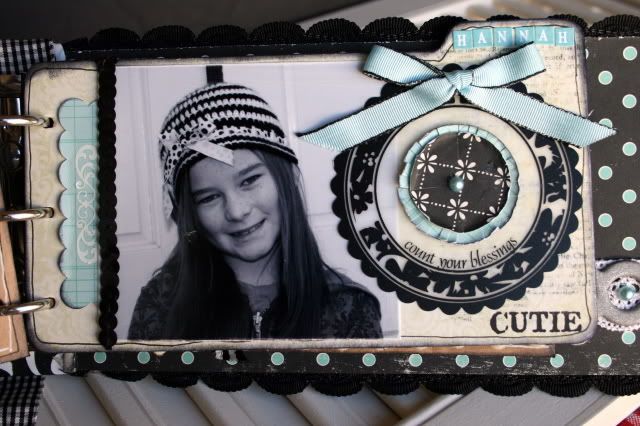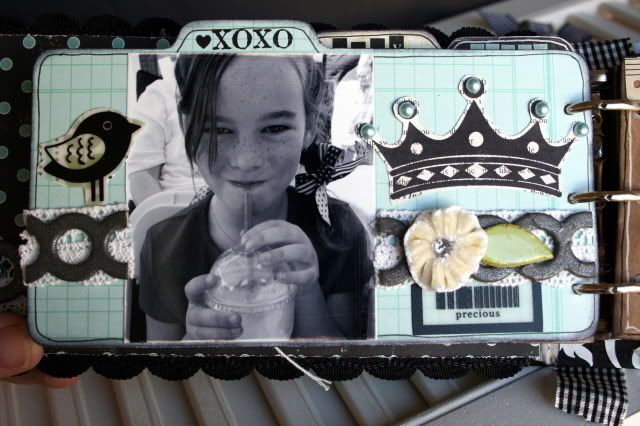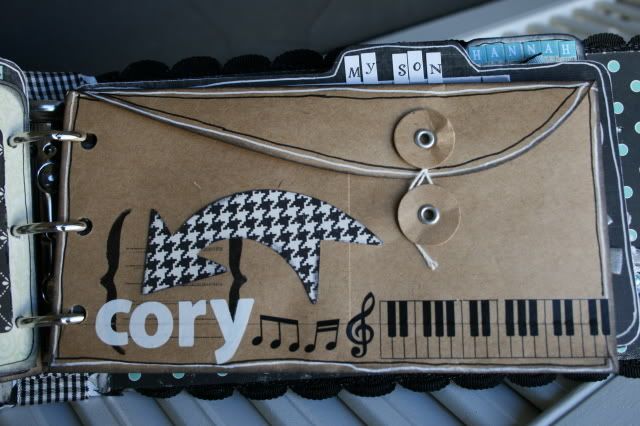 I used a ton of Maya Road goodies on this...stamps, rubons, chipboard, flowers, sheers, pins, Maya Mists etc..... and blogger isn't letting me link anything right now...I'm so frustrated! I'll try to add the links later.
I leave for CHA tomorrow. I'll be working at the Maya Road booth. Stop in and say hi, if you get a chance and are going there...
You can get this album right
HERE
!
Hannah is doing much better. She is over the trauma from last week....although I'm not. We talked to the hospital today and they said it's routine to not use pain meds....and that she had a lot of pins and some were probably a little stuck. They said that they are just too busy to have private rooms even for pin removal patients. They also wanted the name of the lady that was rude to me and they said that "I can talk to anybody I want to about our case" same thing...my kid, my choice. I don't know here name and don't really care....I'll just chalk it up to her having a bad day.
No standing on her feet yet...she has little boots for her casts but we did get her an exercise ball and that is helping...although tonight she is covered in a rash on her belly, arms and back..we think maybe from the ball...allergic maybe? I don't know...I GIVE up this week. We have had some extra challenges and it has been a long week. Stay strong...right?
Talk soon!
~Katie