First of all...my baby is 7 today!! 7..wow...It still seems like yesterday that I was madly searching through the house for a lost binky or blankie...still seems like yesterday when the Fisher Price Little People were scattered everywhere...still seems like I am washing sippy cup lids and cutting up grapes...still seems like yesterday..
So today we had a small family present opening event, Uncle Jake came over for Rootbeer Floats and Daddy called and sang Maddy Happy Birthday. I made cupcakes for Maddy's class and we had cake at Grandma Linda's house last night. We're doing cake tomorrow with Grandma Debbie and Grandpa Scott. They can't come until tomorrow, so we're going bowling and doing cake there for the grand finale.
Here is my Birthday Girl. Maddy Ann Watson-age 7, exactly!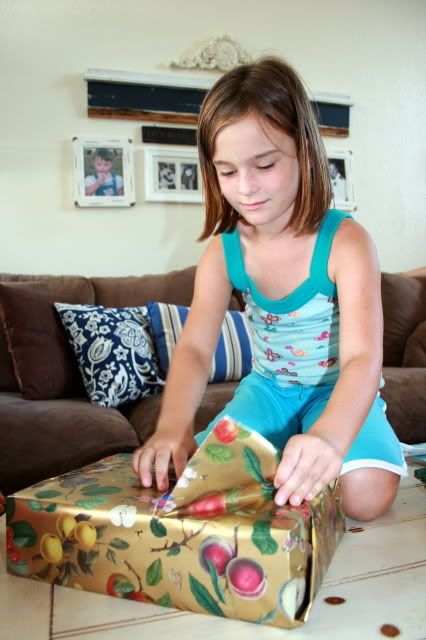 The next thing that makes this a lucky day...is that over at
Kenner Road
I won a 6 month kit subscription. I NEVER win anything...really, I don't...I never win at the slots, I never win at Bingo, I never win any contests...( I do however kick my husbands butt at Gin Rummy)...but for some lucky reason, I won the kit subscription. I am super excited about it because the kits are gorgeous.
Kerry Lynn Yeary
has such a unique vintage style and I love everything that I see that she has made...so her kits have to be good...cause her style rocks! This months kit is just lovely!! I can't wait to work with it!! So, I guess living in all those houses just may have paid off for me!!
Here is a picture that I lifted off her site of this months kit!!
Go Check it out!!