Well, I don't know if I'm having a very happy Monday...Hannah wore herself out yesterday trying to keep up with the cousins and is really sore and just a little bit of an estrogen wreck today. She cried the whole way home from my sisters, she cried in bed until she fell asleep. She cried when she woke up this morning and cried straight until it was time to leave for school. I was mad,annoyed and worried all at the same time. Nothing like going to sleep to crying and waking up to it.
I think that she overworked her legs and it has made not only her legs sore but also her back. I also think that she is just not in a good place right now. She is just getting over a UTI and so I know that she is still feeling the effects of that...but the rest is straight and pure anxiety. Today would have been her first day having to walk to the lunch area and not taking the wheel chair and I think that she is really worried about that. Her teacher wouldn't push her to the point of pain, but she can't stay in the wheelchair forever. Ya know?
So, she is home from school...again...they will probably send the school police after me. She missed so much because of her legs and then the Flu and then the UTI. Man......oh well....at least Maddy had a great morning!
So, Happy Monday!! I hope that yours started out more cheerful then mine. Oh yeah, she's not crying now but sleeping like a baby.
OK, so last weeks
Creative Therapy Project
was to create something around a memory with no photos. Many possibilities there...but as usual, I just let it take me where it would and this is what I ended up with.
If you want read the story behind why I created what I did the go to the
Creative Therapy Site
and see my story and a handful of other artists creations and stories (Including
Jennifer McGuire
)!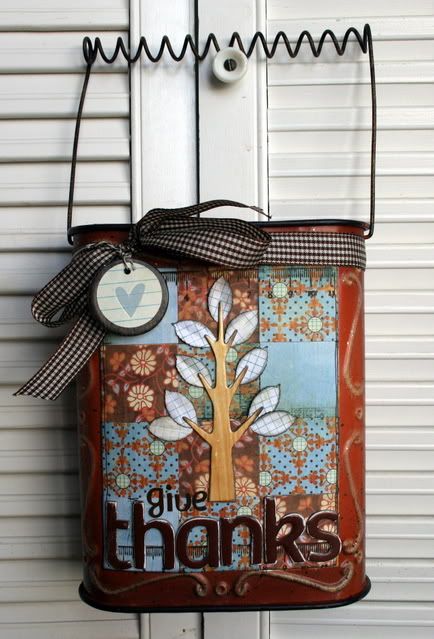 As usual, this was a find at the Goodwill that I knew could be transformed. Here is what it looked like when I got it.
Now so cute......It will be the perfect way to package a gift for someone in the Fall. Maybe put flowers in it, or a book...or some treats....or whatever fits.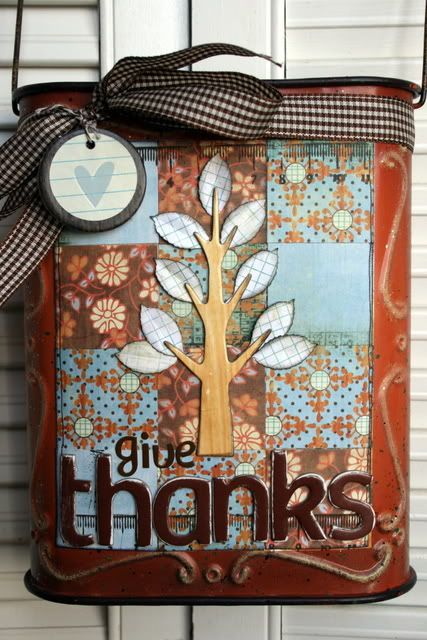 I used the
Pink Paislee Captivating
line on this along with the
Maya Road Metric Ruler Singleton Stamp
(love that stamp, I use it a lot!).
Anyway, I hope you have a great Monday!
~Katie