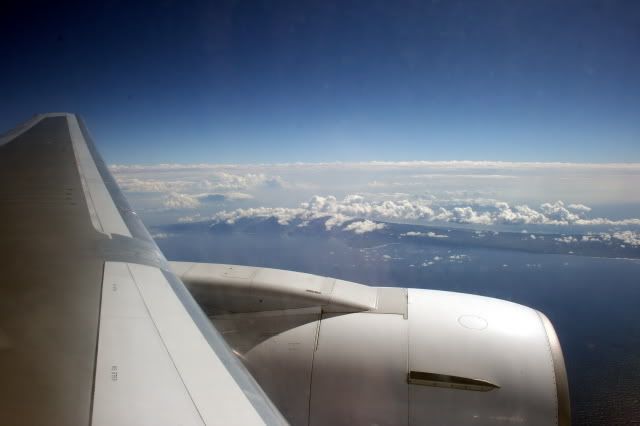 I flew into Hawaii last week to meet Derek's ship....I was so excited and this was my first time in Hawaii. What a beautiful place! I got there the night before Derek's ship pulled in so I had time to meet up with
Molly Peckham
and hang out! She took me to a cool little Hibachi Grill and we dined local style. We actually got the table all to ourselves and pretty much talked scrappy stuff throughout the night. She was super nice in person, gave me a great tour of the island and weathered the many phone calls from Maddy...who was desperately missing me and had a pretty bad night...Sorry Molly! It was so neat to meet one of my scrappy friends in person. Thanks Molly!!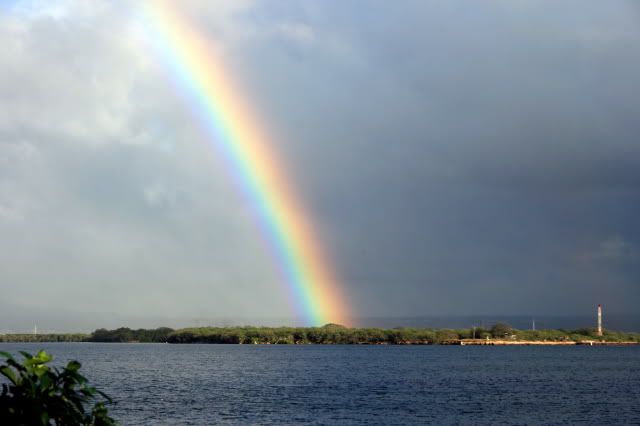 Early the next morning, I hitched a ride with one of the other wives and we went to meet the ship at the ungodly hour of 6:30am...but when we got there we were met with this beautiful rainbow....
Pretty soon, the ship rounded the corner of the harbor and it was the most majestic sight.....made my heart swell with pride. The USS Ronald Reagan is a massive ship....pictures don't do it justice. There are about 5,000 men and women on this ship....it is a floating city. The men lined the deck dressed in their dress whites...such a sight to see!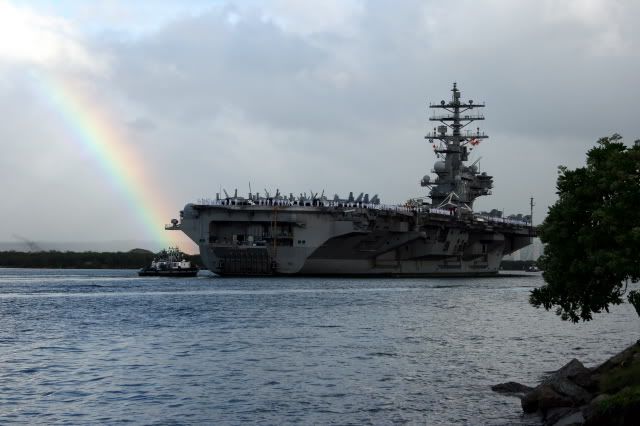 So, when the ship finally docked....right in front of it was a perfect rainbow. A different one then in the picture before. It had it's own rainbow..it was so cool. My picture doesn't do it justice....I took it through the rain and kind of far away.
Derek and I spent about 3 days in Hawaii...and relaxed, caught up on life, I read 3 books (I'm a super fast reader)...and we shopped....got lots of little Hawaiian gifts for the family. It was nice to have some alone time before we jumped right back into family life.
We got back to San Diego Thursday night...and the girls were so excited to see Derek! They had made signs and were jumping up and down waiting for him to get down the escalator. Hannah cried and Maddy was all smiles.
So, now we're home...and life is slowly easing back to normal. I have to say that it's a little bit of a transition....Derek keeps moving stuff around...and I can't find things....he leaves the toilet seat up....and does guy stuff...so he's getting used to my messy ways and I'm getting used to his organized ways...and we are all getting back to being a family with 2 parents.
So, I do have some scrappy things to share...but the family is waiting on me to leave...we're going to Julian to stay at his folks house again (just got back last night from their house, but going again for Thanksgiving)...so I have to go now....but will do a good scrappy post next time!!
Have a great Thanksgiving!