One night LATE...I was up Blog Hopping...and eventually ended up at this blog for a Scrapbook Store called
Paper Tales
...I sat and looked at all the pictures, drooled a little on my shirt...and read a bunch of the posts...and then I spied it...that little print somewhere...this store is HERE in San Diego...
Now you see, San Diego is really broken up in sections...there is North County, Downtown, Beaches, etc... and then there is the county WAY East...East County, which is where I hail from..and us East County People...well, we just stay in East County..yep, we don't venture far...
Well, I decided that I HAD to go see this store...so I went and took a peek..and was blown away...I got home and wondered if it was all a dream...so I went back with a friend (Hi Kathy!)to go and browse and then eat lunch at one of my fave places that happens to be next door(Soup Plantation, or if you're from the South..Sweet Tomatoes)..except..we never made it to lunch at SP...before I knew it, the time had flown..kiddos were getting out of school..and it was time to speed off.
So, Michelle the owner, has done it right....I think she snuck inside my head and took all my ideas of what kind of scrapbook store I would have, if I owned one....Here, this will entice you a bit...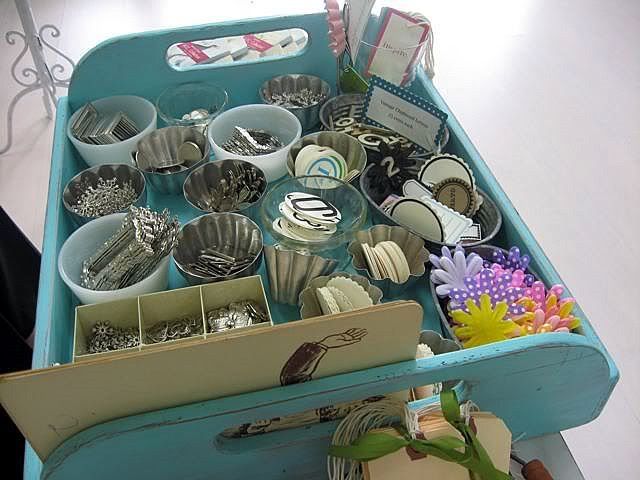 Hmmmmm...back for more, huh? Well, OK..just a few more....but not all of them because I want you to keep reading my post.....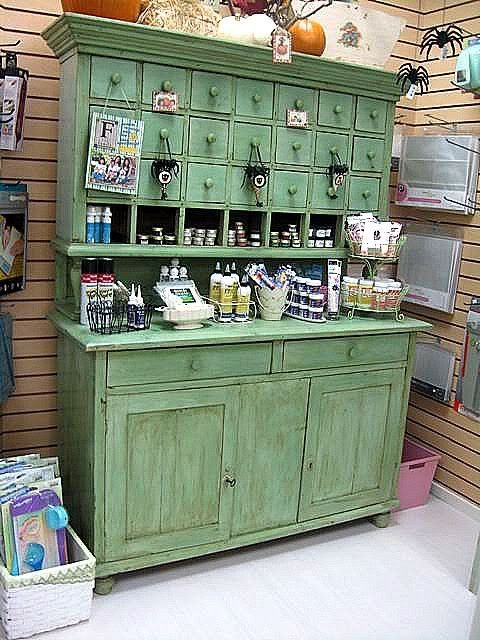 Well, back to Michelle...she is very spunky, very down to earth, an
A Muse
Stamp DT (they have some stamps that are so stinkin cute) member and a fellow Navy wife....yep, with a hubby that retired not too long ago..that was a Helicopter pilot..OK, 2-0... Navy wife, Scrapbooker...ummm...very fun..and we had so much in common...and she "Gets" me...we have that Navy
and
scrapbooker lingo down...I'm sure that the common (and I don't mean common as in ordinary, but common as in a normal person) would think we were speaking a foreign language... Don't go away yet..here are a couple more pics to keep you hanging on....
Look at all these colored tulle..!!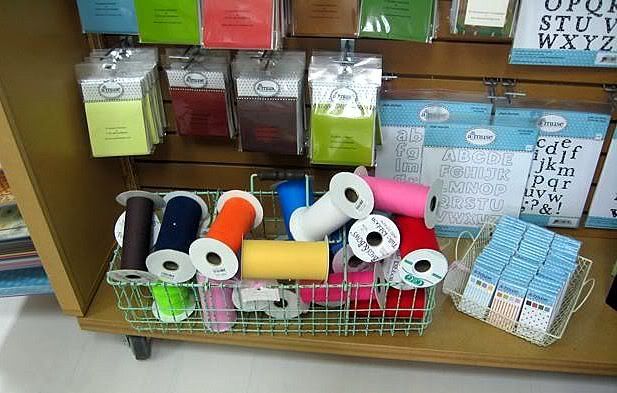 OK, I saved the best for last...well, almost last...the couch...Oh Dear Shabby Gods....
She has lots of vintage finds...yep, she's got friends that hit the estate sales and package up little goodies....I have a big basket full of them...so cute...and she puts them in little scallop cut clear bags with seam ribbon bows and stamped prices (oh..and they are cheap!)..and when you buy stuff..it gets wrapped in tissue paper and put in white shopping bags with handles...you feel like a million bucks!
And.......they carry
Maya Road
,
Pink Paislee
(who btw, has a brand new beautiful website, so if you have their blog linked anywhere, you need to re-link it)and
7Gypsies
..all 3 of my favorite brands...and a bunch more...
Jenni Bowlin
,
Melissa Frances
,
Sassafrass Lass
,
Making Memories
...and on and on and on...plus she has the cutest little gift items..OK, I'll quit and get on with it...Make sure if you stop in there, you tell her I said "hi"! I don't think she will give you the "Saw it on Katie's blog" discount...but I bet she'll wrap up your purchase nice and pretty!
So, I am teaching there on Sunday, Dec. 7th..at 2pm. I am teaching a Holiday/Christmas Banner class...using
Pink Paislee's Tinsel Town line
...and
Maya Road
...lots of glitter, vintage music sheet paper, velvet flowers, tulle and silk ribbon. A thank you to Miss (she's actually a Mrs...but Miss sounds so much cuter!)
Sarah Moore
for allowing me to scraplift her stars behind the letters idea...She's my friend (yep, Sarah, I owe you an email...don't worry, you aren't the only one!)from Down Under and a military wife!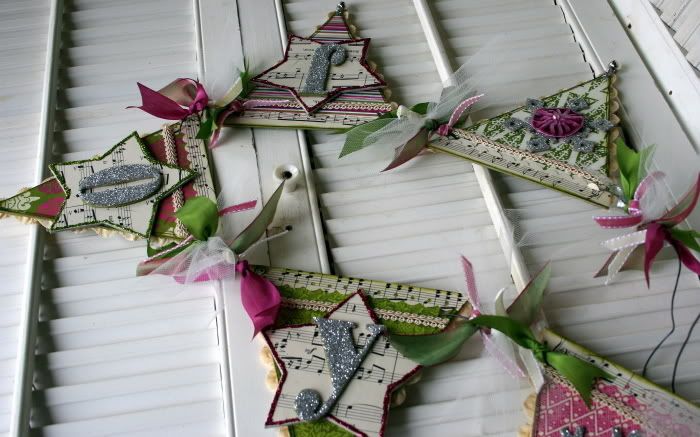 .
Sooooo, that date again? Oh, OK...I thought that's what you said...Sunday, Dec 7th..be there or be square..for sign up info go to the
Paper Tales
blog and get the contact info (don't know how cool that is to post a phone number)...
I guess that's it...oh yeah, and I think I broke my friggin toe today...I have x-rays in the morning...I think it might have to be popped back into place...Yikes!