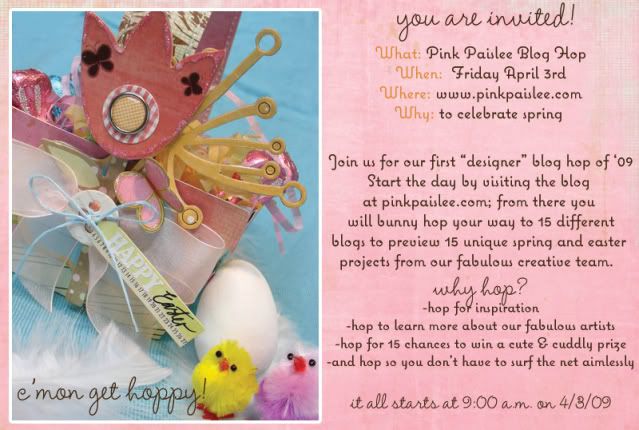 It's time for the
Pink Paislee Spring Blog Hop
! Here are the details....Go to
pinkpaislee.com
to find links to all the design teams blogs and then leave a comment on each persons blog to have a chance to win the prize pack below!
The drawing for the winners will be on Sunday so you MUST comment on my blog post (and all the other DT members blogs if you want!)to be entered into the giveaway!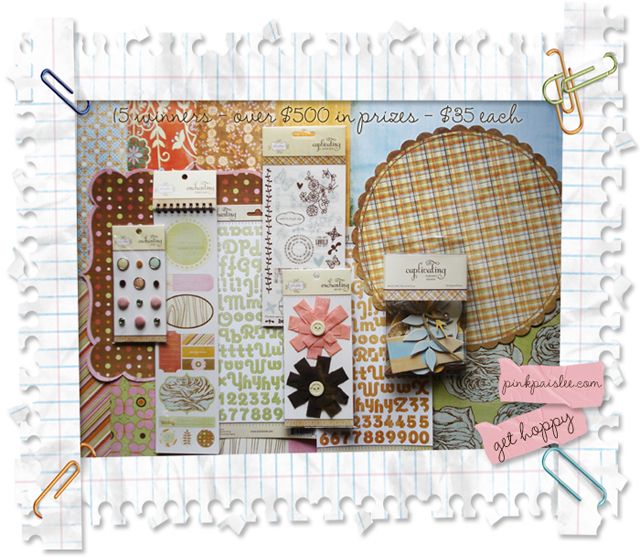 So that you can get to know us all a little better, Rebecca wrote up a little questionnaire for us to all answer...so go to our blogs (by going
HERE
)and learn a bit about us and be inspired by our
Pink Paislee Spring Projects
!
My 11 Questions!!
1.) Where did you grow up? Do you still live there?
Are you ready for the list? Oh My....these are in chronological order....
Salt Lake City
Pensacola,Florida
Rhode Island
Jacksonville,Florida
Moscow,Idaho
San Diego,California
Springfield, Va
San Diego, Ca
Corpus Christi, TX
Jacksonville, Fla
Oak Harbor, WA
Corpus Christi, TX
San Diego, Ca
Crazy, huh? I was a Navy brat and now a Navy wife!
2.) What is a typical day like for you?
Up at 7am, coffee, kids to school, coffee, computer, scrapbooking, house cleaning, crafting or scrapbooking, pick up kids, homework, dinner, TV or activity with kids, bedtime for kids, read or computer, bed at 11pm. Wake up at 3am, can't sleep...blog surf :)!!
3.) What is your favorite fashion accessory? Why?
My bird charm bracelet by
bebeandyaya
4.) What is playing on your ipod right now?
Sadly, I don't have an ipod....:(
5.) Name one television show that you MUST TIVO each week?
The Biggest Loser
6.) What is your favorite movie of all time?
Knocked Up (I know, I know.........inappropiate..but it makes me laugh until I cry)
7.) What is your favorite Pink Paislee product?
The
Pixee Stix
for sure!! But a CLOSE second is the
Vintage Moon Accents Pressons
.
8.) If you could only keep 1 scrapbooking tool what would it be?
Fabri-Tac, my miracle glue!
9.) If you didn't scrapbook what other activity would you spend time on?
Crafting or painting.
10.) What advice would you give to someone who wants to start scrapbooking?
Do what works for YOU.
11.) What would you say your scrapbook style is today?
I would say kind of a
"Shabby, Vintage Flea Market Look"
...and oh yeah,
busy, busy, busy
!
OK, now for my
Spring Project
........I altered a left over glass jar from Prima flowers...I KNOW that you all have some of these! I just used Fabric-Tac to adhere it to the glass...and then adhered the cute little chicks and some Easter grass to the top. Curled and tied a bow around the lid and filled it with Spring M&M's! So easy!!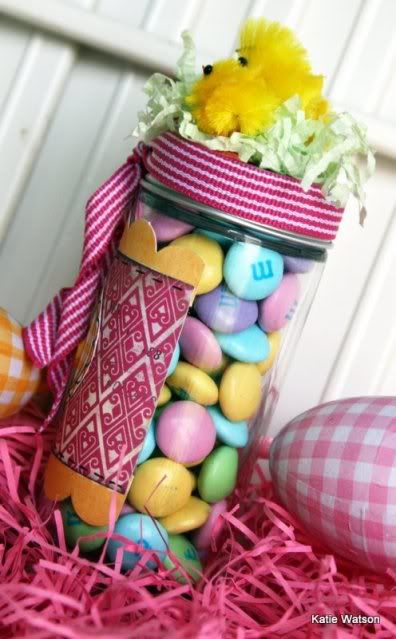 Have a Happy Spring and GOOD LUCK!!
I have had some emails about the "SPRING" stamp on the front of the bottle. I found some for sale
HERE
!!